Deer Creek Lodge boasts multiple types of accommodations throughout their resort.
You can see the full list on their website here.
We also suggest checking out the layout maps of the resort.

The following rates do not include tax. Please note that in order to receive these special rates, you must purchase a ticket to Ice & Fire Con and receive a booking code. There are absolutely NO on-site ticket sales for Ice & Fire Con; all tickets must be purchased by Sunday April 19th, 2020. 
From time to time you might be able to find vacation packages or discounted rooms by booking directly on Deer Creek's website. Please feel free to book online if you come across one of these that better suits your needs, but note that in order to make sure you are included in our block you will still have to call Deer Creek and request this – and yes, you want to be in our block, because they will do their best to put you in a room closer to all the goings-on! That said, we highly discourage booking through any third-party site (Expedia, Travelocity, etc.) as rooms booked via third-party sites often have harsher cancellation penalties and, due to Deer Creek's policies, absolutely cannot be added to/included in the Ice & Fire Con room block. 
Please note that the following were our 2019 rates. This page will be updated with room pricing for our 2020 event soon.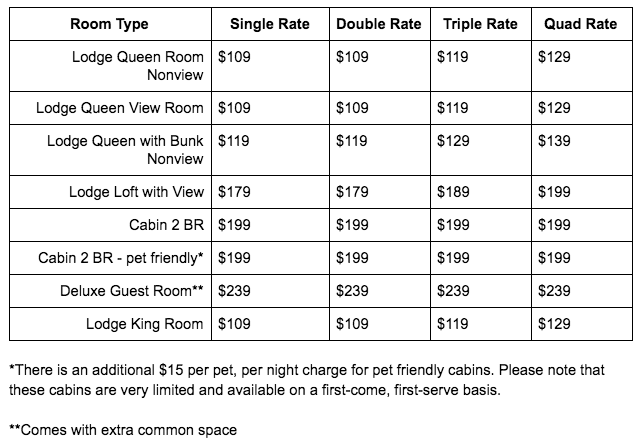 If you require an ADA accessible room, please send us an email at your earliest convenience. 
As always we can be reached at iceandfirecon@gmail.com