I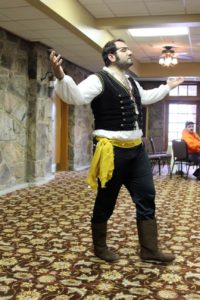 ce & Fire Con had five years of amazing costume contests, but for 2018 we decided to revamp some of our activities. In doing so we decided that, for us at least, the idea of a simple costume contest is passé. Therefore, there will not be a costume contest this year – but don't worry, we're still having our costume parade, which has been an attendee favorite for the past two years! You will sign up for the parade when arrive at registration at the convention, and it will be held on Saturday afternoon of the convention.
In addition to the parade, we encourage anyone who was considering the costume contest to sign up for our performance contest instead! While we've only held the performance contest as an official, separate event since 2016, its origins go all the way back to the person who won the costume contest at the first ever Ice & Fire Con; this person won because he gave an amazing Robert Baratheon performance to go with his costume. Since then, the performance contest has featured amazing monologues, filk/parody songs, skits, and rap battles, and we can't wait to see what our future attendees have planned for us!
Rules for the performance contest are as follows: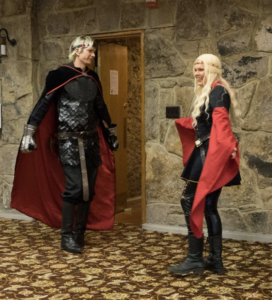 1. Acceptable performances: Just about anything you can think of (monologue, playing an ASOIAF/GoT song on an instrument, performing a filk song or a group skit or a rap battle), so long as it (a) is ASOIAF/GoT themed and (b) isn't offensive. If you are concerned about whether your performance might not fit within this particular rule, please contact us with any questions.
2. Length: Optimal performance length is 3-5 minutes. While we should be able to accept performances longer than 5 minutes, we will not accept anything longer than 10 minutes, and those that are less than 5 minutes long will be given priority. What does this mean? Well, it means that depending on how many people sign up, if your performance is longer than 5 minutes, we might not be able to fit it into the schedule.
3. Costumes: Wearing a costume/cosplay for your performance is NOT mandatory, but it is encouraged! Additionally, if we end up getting a large number of entries with a good split between those wearing and not wearing costumes, we may do two separate award categories.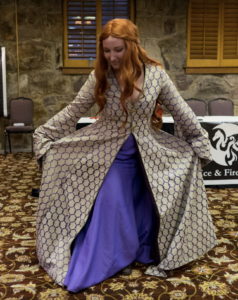 4. If you are using music: Ice & Fire Con will not be providing any music. You must bring it with you on a thumb drive, which you will turn in at registration. Your thumb drive will be returned to you after the performance contest.
5. Microphone use: Unfortunately, Ice & Fire Con CANNOT provide microphones for the performance contest. (And no, you can't bring your own, as this would create unfair advantage for those who had their own to bring.) If you plan on singing/rapping and are worried about volume over background music, we suggest pre-recording your song/rap and lip-syncing to it during the contest.