Ice & Fire Con 2021 will be held
at Deer Creek State Park Lodge
in Mt. Sterling, Ohio!

Please note that you will not be able to book rooms within the Ice & Fire Con block at Deer Creek Lodge via the Lodge website. Once you purchase an Ice & Fire Con ticket you will receive an email with the details on how to book a room.
You can see the full list on their website here.
We also suggest checking out the layout maps of the resort.
We highly suggest you book rooms at Deer Creek as the resort is at least 20 minutes away from any other lodging options. There is, however, a campground located approximately 2.5-3 miles from the resort.
Physical Address: 20635 State Park Rd 100, Mt Sterling, OH 43143
Phone: (740) 869-3124
Website: http://www.deercreekstateparklodge.com/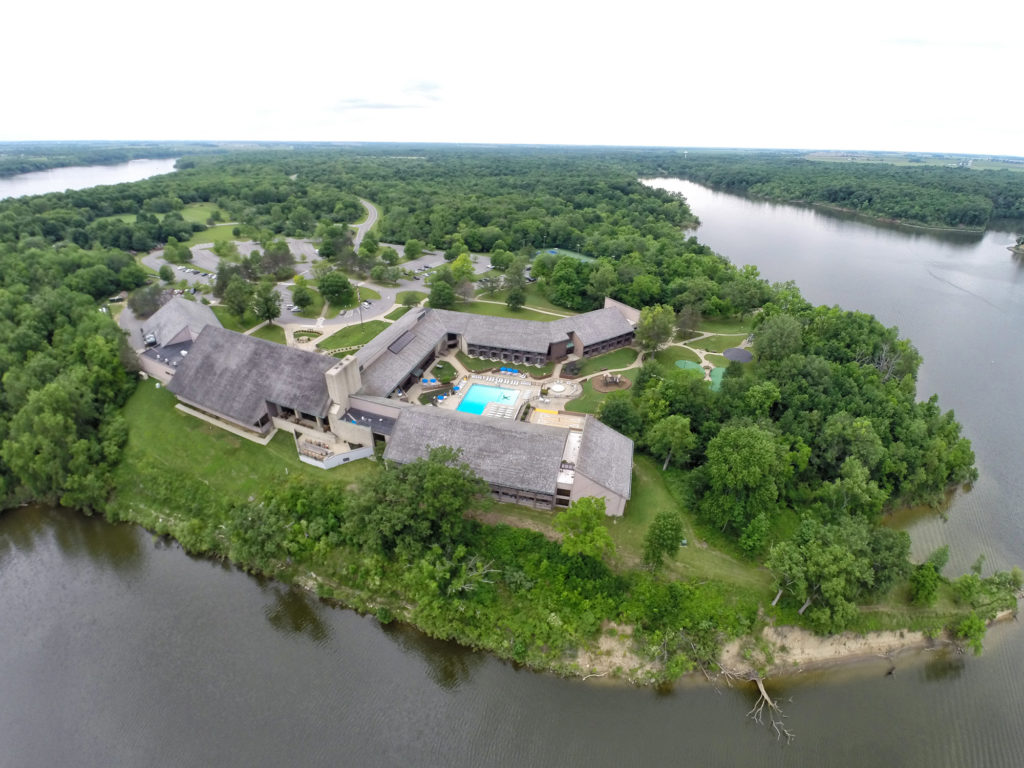 Deer Creek Lodge is situated in Deer Creek State Park in Mt. Sterling, Ohio.
ACCOMMODATIONS
Deer Creek offers several different types of accommodations. From lodge rooms with two queen beds to larger suites and cabins and historic cottages just a few minutes' walk from the main lodge, there's something for everyone! Convention rates start at $111/night (before tax).

Again, please note that the rates listed above do not include tax. Additionally, in order to receive these special rates, you must purchase a ticket to Ice & Fire Con and receive a booking code. There are absolutely NO on-site ticket sales for Ice & Fire Con; all tickets must be purchased by Sunday April 19th, 2020. 
From time to time you might be able to find vacation packages or discounted rooms by booking directly on Deer Creek's website. Please note that while you might be able to find rooms available on third-party websites, we highly discourage booking through these sites (Expedia, Travelocity, etc.) as rooms booked via third-party sites often have harsher cancellation penalties and, due to Deer Creek's policies, absolutely cannot be added to/included in the Ice & Fire Con room block. 
PETS
Only certified/registered service animals are allowed inside the lodge. There are a limited number of pet-friendly cabins available, and you must request one of them when making your reservation. Please note that these cabins are available on a first-come first-serve basis and not guaranteed unless specifically requested; also, there is an additional $15 per pet, per night charge.
EVENT LOCATIONS
Official Ice & Fire Con events generally take place in the Lodge and its immediate surrounding areas.
FOOD & BEVERAGE
Rafters Restaurant serves breakfast, lunch, and dinner on a daily basis at the following times:
Breakfast 7 AM – 10:30 AM
An a la carte menu featuring omelets, pancakes, oatmeal, and more
Lunch 11 AM – 2 PM
Soups, salads, and sandwiches
Dinner 5 PM – 8 PM
Extended version of their lunch menu that includes steaks, chicken dishes, fish, and pastas
Harding's Lounge opens at noon daily throughout the convention, and serves a pub-style menu with items such as mozzarella sticks, wings, and even made-to-order pizzas.