We are very excited about our new stage combat teacher Dan. He is going to give a whole new shine to Ice & Fire Con's stage combat classes, and we wanted to highlight some of his accomplishments via a brief interview!
What got you into jousting/stage combat and how did you start out?
I've been riding horses my whole life. I went to visit the Pennsylvania Renaissance Faire in 2013, saw the joust with some friends, and they encouraged me to speak with someone about getting involved.
How long did you participate in jousting and stage combat?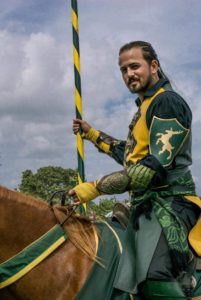 I traveled the country from Faire to Faire for 6 years.
How many faires/festivals have you performed at?
I've performed at 8 different Faires all over the country. It's kind of a low number in comparison to some people I know; they've traveled most of their lives performing and participating.
Aside from swords, what other weapons have you fought with or utilized?
Two-handed axes, axes and shields, dual single hand axes, the spear, the skien (which is a long dagger), and throwing weapons.
What is your favorite weapon and why?
The spear. You can do so much with it. Grapple over it, pole vault over or into another person or object, throwing it, using it to parry, as well as thrusting. It's just a really well rounded weapon.
What's the most difficult aspect of live  stage combat?
Continuing on. If you make a mistake, just roll with it and trust your partner to do the same. Obviously you rehearse vigorously but accidents do happen and mistakes are made.
What is your favorite thing about live stage combat?
The energy from the crowd. When you do your job right and they just explode in their seats and light up it really does carry you on. The exact opposite is true if the crowd doesn't offer any feedback. It can be draining.
Have you performed mounted combat? (I.e. mounted archery, using swords, axe, etc) If so, what did you use?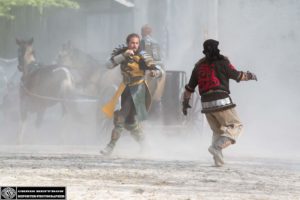 I've practiced mounted archery on my own but never as a sole performance in a show. I'm nowhere near fantastic but I can usually hit the target. I've been doing archery for a few years and even got the chance to shoot a bow out of the back of a moving chariot in a live show. That was stressful but the crowed loved it.
What is your favorite fight scene in Game of Thrones?
My favorite scene is probably where Daenerys has the dragons burn the masters, but fight scene in particular would be The Mountain vs the Viper because I've done something similar with a fight partner. Another favorite fight scene is Battle of the Bastards.
You have to battle the Night King one on one. What is the first weapon you would choose and why? (Dragons are not allowed!)
Definitely a spear or dragon glass throwing knives so I don't have to get close.
If you had to give one piece of advice to someone new to stage combat, what would it be?
Practice, practice, practice – and practice safely. Never stop learning and growing. Make your own stage combat and your routine. What works for someone may not work for you. If you can make it safe, fun and entertaining to watch then you're already on the right track. Never sacrifice safety for flashy. In the last year of jousting, I forgot about the safety aspect and had too many accidents to count. 
Thanks to Dan of Trial by Combat for giving us some of his time. Our stage combat classes are scheduled for 2 PM on Friday April 27th and 12 noon on Saturday April 28th. While there is a participant limit, anyone can come and watch/listen. Do you have your ticket to Ice & Fire Con 2018 yet?