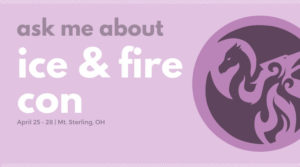 Hello Ice & Fire Con enthusiasts!
Heads up – now is a great time to get your $80 tickets for next year, because they will go up to $90 on November 1st!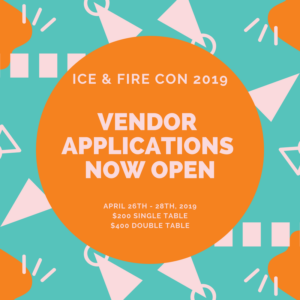 Our 2019 vendor application is now available! 
Single Table, 2 Passes: $200
Double Table, 4 Passes: $400
Click here to apply. Full vendor rules are also available on our website.
Keep the love alive in between our April conventions! If you're not yet supporting us on Patreon, please consider becoming a Patron of Ice & Fire (Con) – tiers start at just $1 per month. Check out our hilarious chapter read-aloud and discussion from June 30th – future read-alouds will likely not be made available to the public, but we figured we would finally release this one to show you what you're missing!
Our next session is Saturday, September 15th, at 4 PM Eastern, and we will be reading one female POV chapter (Sansa) and one male POV chapter (Theon) from A Clash of Kings! Patrons can join us LIVE to take part in the discussion via chat, or watch later at your convenience. Become a Patron of Ice & Fire (Con) today for this and other great perks!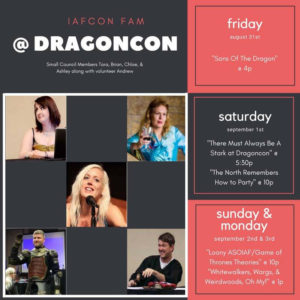 Last But Not Least…
The Gang went to Dragon Con (and made t-shirts – an Ice & Fire Con version will be available for purchase soon in our online store)! Several of our regular con attendees were involved in panels and party planning. Did you spot us talking about Targs, Starks, White Walkers, or Loony Theories?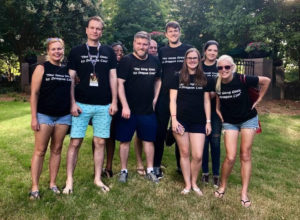 We hope to see you in this weekend's read-aloud, should you choose to become a Patron, and as always, don't forget to follow us on Facebook, Twitter, Instagram, and/or Tumblr! Valar morghulis, valar dohaeris.