Greetings to fans and attendees both new and old! We've recently been posting some fun information on

the Ice & Fire Con Facebook page

, and now we've collected them together in A Story of Ice and Fire Con.
As always, please contact us if you have any questions. Don't forget, tickets for Ice & Fire Con 2017 are on sale now!
WHAT is Ice & Fire Con?
Ice & Fire Con – also known as A Convention of Ice and Fire – is a non-profit convention for fans, by fans. More than anything, we are a community seeking to spend a weekend discussing A Song of Ice and Fire while making fast friends with fellow fans.
While we absolutely discuss HBO's Game of Thrones and have many attendees who have never read the books, we tend to focus more on George R.R. Martin's series than on the show. Our event has been deemed "Camp for ASOIAF/Game of Thrones Fans" and we are very proud of this distinction 🙂
WHO

is Ice & Fire Con?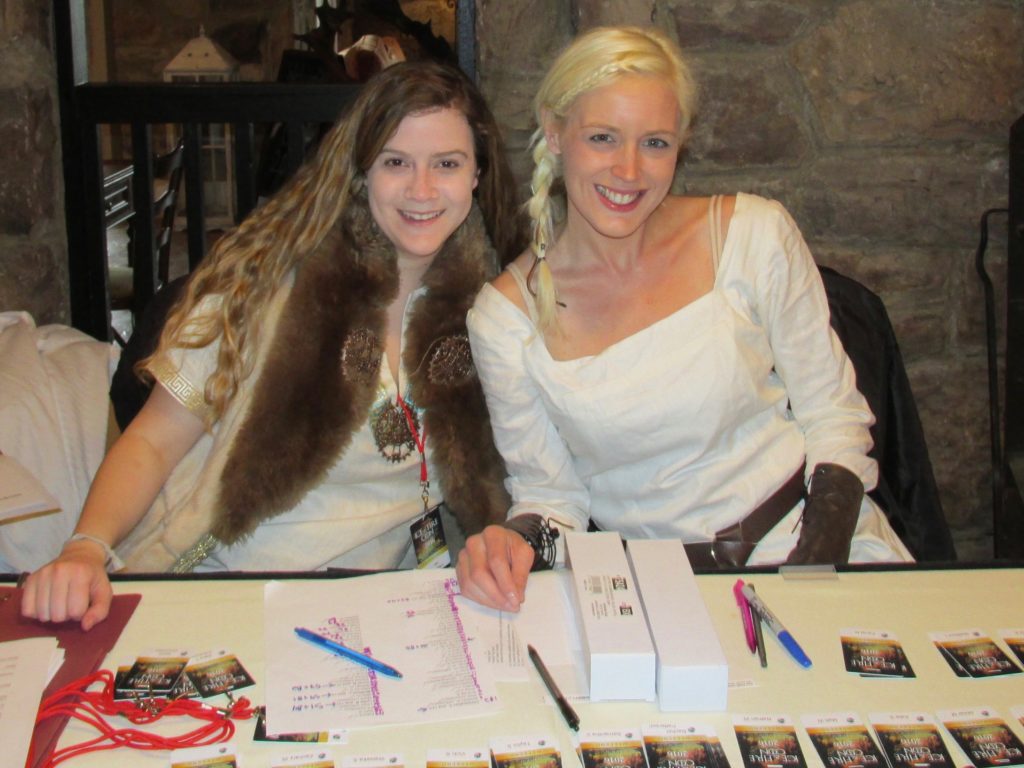 Ice & Fire Con is an intimate gathering of quality nerds. We come together from across the continent to celebrate all things George RR Martin has brought to this world thanks to his book series. Our warm and welcoming community sets us apart. We aren't just Game of Thrones-obsessed, either – you are likely to hear attendees chatting anime or Star Wars and singing along to Hamilton or Steven Universe!
We are led by two organizers: Tara Lynne, the founder and Queen Regent, and K-K Bracken, newly appointed Lord Paramount. We also have five Small Council Members who head our committees and fifteen wonderful volunteers. Together, we make up a team that is dedicated to making the weekend spent with Ice & Fire Con as wonderful for everyone else as it has been for us the past four years.
WHERE

and WHEN is Ice & Fire Con?

A Convention of Ice and Fire began at Ravenwood Castle in the heart of Hocking Hills in New Plymouth, Ohio. Our numbers grew steadily in the first three years and in 2016 we moved to a bigger location: Mountain Lake Lodge in Pembroke, Virginia. This gorgeous, sprawling resort is nestled in the Appalachian Mountains, and offers breathtaking views and what some of our attendees have called "the best seafood buffet East of the Mississippi." Plus, this is the very same resort where they filmed Dirty Dancing – you haven't lived until you've seen Bittersteel lift Ramsay Snow Bolton above his head while "I've Had the Time of My Life" plays in the background.
We have always held Ice & Fire Con during mid to late spring; 2017's convention will take place April 28 – 30. The average temperature for these dates at Mountain Lake are high 60s during the day and mid 40s at night – in other words, you can take your cosplay from Dorne to North of the Wall in comfort and style!
HOW did Ice & Fire Con come to be?

Ice & Fire Con was dreamed up at Dragon*Con 2012 when three fans lamented the lack of Game of Thrones-specific programming at conventions despite the increasing popularity of the HBO adaptation. Research was done and a venue was found: Ravenwood Castle in New Plymouth, Ohio. The first American A Song of Ice and Fire convention was held in April 2013.
There are still many attendees from that first Convention of Ice and Fire who come to the Con each year, and many of them have migrated into volunteer, small council, and even organizer positions. Our intimate size and wonderful community brings together folks from all over, and the friendships made at Ice & Fire Con last well beyond the weekend in which the convention takes place.
Check out

our FAQ page

for even more information!