We are getting tantalizingly close to our fifth year anniversary convention, and we are thrilled to announce we have doubled 2016's ticket sales! Thank you so much for being a part of our biggest year yet – we can't wait to see everyone in less than a month.
Please note that we have sold our Stone Lodge Package and remaining on-site lodging is very limited. If you have not yet booked your room at Mountain Lake Lodge, please consult the room rates and availability page for information and/or post in the Facebook Group that you are looking to room with someone who has already booked.
Don't forget to sign up for the following events as we cannot guarantee at-con registration will be available. Programming not listed below does not require any kind of enrollment, just show up and have fun!
Mountain Lake has graciously rearranged some of their restaurant scheduling to accommodate our group for the weekend. First, the breakfast buffet has been upgraded in terms of available food items and will run until 10:30 AM each morning. Cost is approximately $16 per person. They do not take reservations for breakfast.
Second, they are extending their weekly seafood buffet to include Friday night of Ice & Fire Con! This dinner buffet does book up to a week or more in advance, so we suggest calling (540)626-7121 x424 as soon as possible to make your reservation. (Note that the best time to call is between their general operating hours of 8 AM and 7 PM, seven days a week)
We will also be offering a bar in the ballroom of the main stone lodge that will operate from 6 P.M. to midnight on Friday and Saturday. It will have bottled beer, wine options, and basic well liquors with simple mixers. The ballroom bar will accept cash or room charges; for alternate payment or other drinks, we will of course have access to the main bar at Mountain Lake Lodge for the entirety of its operating hours.
Please note that while there is internet available at the venue, we highly recommend you bring cash for the vendors and silent auction. As well, we are changing the rules of the mock election, which will include votes-for-cash (or quarters). All proceeds for that will go to the Wild Spirit Wolf Sanctuary, a charity supported by George RR Martin.
We have released the 2017 schedule, which you can browse below.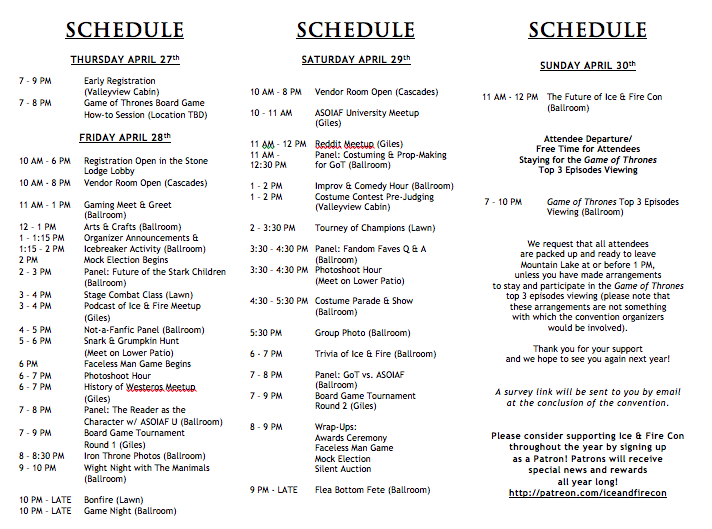 All events subject to change.
You can request songs for the Saturday night dance party at FleaBottomFete.Party
Let us know about the cosplays you're working on, the ASoIaF-themed brews and snacks you're bringing, and all your hopes and dreams for this year's convention with the hashtags #IceAndFireCon and #IaFCon.
It is never too late to add a night to your time with us, just call Mountain Lake at (540)626-7121. You can vote for your favorite GoT episodes for the Sunday night viewing right now on Facebook.